PageTitle
Prime Rib Roast with Horseradish Cream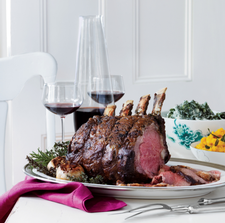 Recipe Date:
December 7, 2016
Measurements:
Imperial (US)
Ingredients
10 lbs Bone-in prime rib roast (about 4 bones), tied
Sea salt
Freshly ground pepper
1/4 cup Extra-virgin olive oil
4 tbsps Unsalted butter
2 Heads of garlic, halved crosswise
8 Thyme sprigs
For The Sauce
2 cups Crème fraîche (16 ounces)
1/2 cup Grated peeled fresh horseradish
2 tbsps Champagne vinegar
1 tbsp Minced chives
2 tbsps Minced scallion
1 tsp Salt
2 tsps Cracked black pepper
1/4 tsp Piment d'Espelette or cayenne pepper
Directions
PREPARE THE ROAST
Preheat the oven to 325°. Using a sharp paring knife, make 1-inch-deep slits all over the surface of the meat. Rub salt and pepper all over the outside and in the slits of the roast. Heat the olive oil in a very large skillet. Add the roast, meaty side down, and cook over high heat until browned, about 10 minutes. Add the butter, garlic and thyme and cook over moderate heat, basting the roast with the butter, for 5 minutes.
PREPARE THE ROAST
Transfer the roast to a medium roasting pan, bone side down. Press the cut side of the garlic halves and the thyme sprigs onto the surface of the meat and roast, turning the pan occasionally, for about 3 1/2 hours; the meat is done when an instant-read thermometer inserted in the center registers 125°. Let rest for 15 minutes.
MEANWHILE, MAKE THE SAUCE
Combine all of the ingredients in a bowl.
MEANWHILE, MAKE THE SAUCE
Carve the roast off the bone, then thinly slice. Serve with the horseradish sauce.