Alpha Mare
2015 Alpha Mare Red Wine
Alpha Mare is Anne's "cart blanche". It is our opportunity to show off the best of our best and to play with a more varied pallet of varietals. With Cabernet Sauvignon consistently at its base, our goal is to put together a blend of varieties we feel expresses the best of what Napa Valley can offer. It is a Napa Valley red wine at its core.
We ferment each small lot separately to maximize its individual character and improve our ability to push each lot to the highest potential. It is meticulously sorted and fermented in small 1 ton lots, sometimes inside an oak barrel, sometimes tiny stainless steel tanks, some with indigenous yeast and sometimes we co-ferment - fermenting two varieties together. During its aging, this wine is put into 75% new, high quality french oak. This is our only wine that goes through an "elivage" of blending. Due to the slightly longer time in the barrel, and the many colors in the pallett, we blend this wine gradually over the course of its life, finalizing the blend in the spring before fall bottling so that it has time to marry in oak and rest before bottling.
Our anchor for Alpha Mare is a Cabernet Sauvignon from the Blossom Creek Vineyard in the Calistoga AVA. This is a proven site and we are fortunate to work with Josh Clark as farmer to consistently provide our solid ground for this generous and rich wine.
Other sources are Petite Sirah from Calistoga, a classic location for this variety, Malbec from the cooler Coombsville region and Petit Verdot which also comes from the Blossom Creek Vineyard.
The 2015 Alpha Mare Red opens with a generous full and complex nose constructed of vanilla, cedar, graphite and black currant. Warm and comforting aromas of shortbread, warm blackberry pie and flint keep one coming back to this wine again and again. In the mouth the wine has lots of generosity but also lots of tension. Fine grained tannins mingle with a firm acidity to lift the wine in the palate and gives it a sense of energy. The tannins settle on the finish and lead the wine to a pleasing bloom of rich dark fruit.
While 2015 was another dry year; late winter rains fully recharged the soil profile giving the vines an excellent push come spring.   This balance between crop load and canopy allowed for dappled sunlight and encouraged the development of complex flavors. We would be even more grateful for the leaf cover during the sporadic but intense heat storms of September and October. We already expected a smaller vintage after three years of drought when cool temperatures extended bloom from a usual average of 10 days to almost 40 days in some vineyards resulting in an even lighter crop load. This smaller crop brought us an early harvest with wonderful concentration of flavor and lush mature tannins.
Vintage 2015
Bottling Date: August 11, 2017
Alcohol: 15.2%
Total Acidity: 6.2 g/L
pH: 3.76
Time in Oak: 21 months
Type of Oak: 100% French, 85% New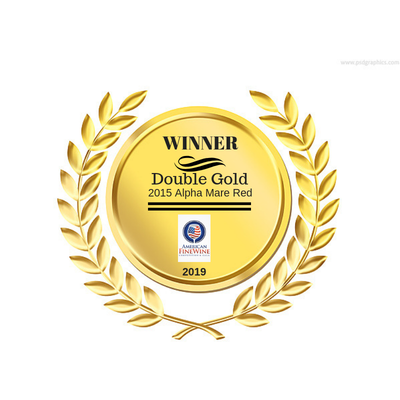 The label of Alpha Mare is quite unique. The beautiful image on the front is Paradigm, Anne's horse, captured by celebrated photographer Peter Samuels. The design was put together by Jeffery van Loben Sels, a talented graphic designer, and Anne's cousin. On the back label, Anne's Mother, Grandmother and aunt appear on horseback up at their family cabins in the Sierra Mountains where she and her family still camp every year. This photo was taken in the 50's and is a beautiful example of how the love of horses, nature and farming passes down through the generations. Anne is a 6th generation California farmer.