December 18, 2019 | Pairings, Red Mare on the Road, Red Wine, White Wine, Wine, Wine Special | Red Mare
A Special Gift For you....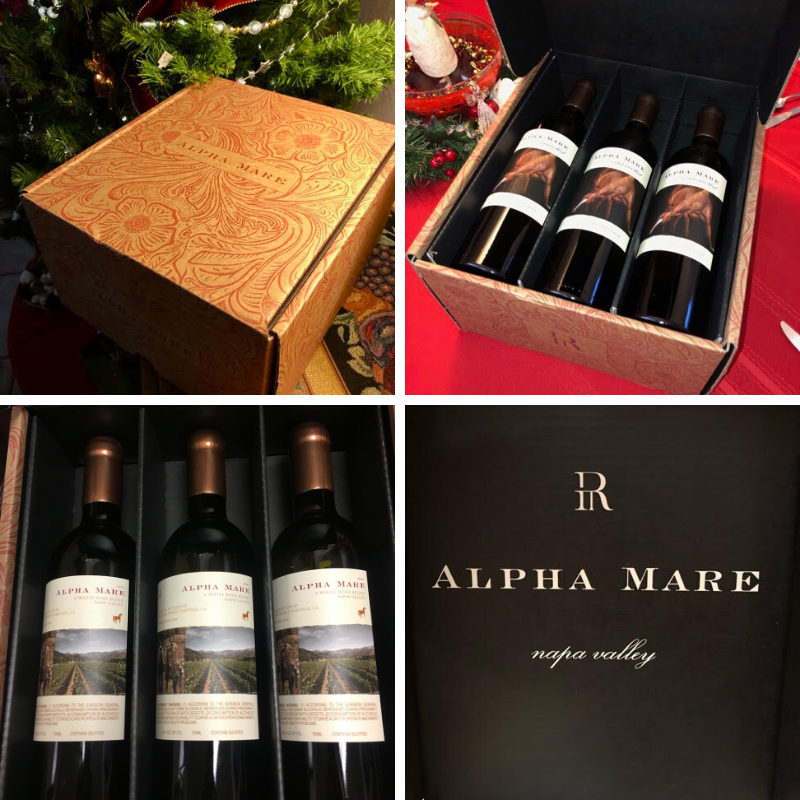 Haven't gotten a gift for the wine lover in your life? We have a tasty and beautiful solution. Complimentary FedEx Priority Overnight Shipping valued at $100.00 Use Promo Code: HOLIDAYGIFT
We make a tiny amount of two very special wines. Alpha Mare is a nickname that I was given many years ago. I decided to lend it to our top tier wine. Everyting about this wine has been touched and retouched by me. I've been given "cart blanche" with fruit sourcing, barrel selection, fermentation style and packaging design.

6 bottles are beautifully presented in a gift box with my own artwork. When the quote came in to design the box that I wanted, I decided to try my own hand… I'm pleased with the result. It is a lovely, sturdy six pack lay down box designed with a tooled leather pattern from an old saddle.

The label of this wine features Paradigm, my own red mare horse. She had a photo shoot with Peter Samuels, a celebrated animal photographer in San Francisco. The back label features a photo of my mother, grandmother and aunt, all horseback in the Sierra Nevada mountains, a place dear to my heart.

We only made 234 cases of our 2015 Alpha Mare Red Wine and a scant 142 cases of our 2016 Alpha Mare White Wine. They are both unique, powerful and very special and would make a wonderful gift under the tree.

Learn more about these wines at our website and skip the holiday stress by ordering your own 6 pack box. You won't even need to wrap it!

2015 Alpha Mare Red Wine 2016 Alpha Mare White Wine

Price Per Bottle - $168.00 Price Per Bottle - $72.00

Price Per 6-Pack, Gift Pack - $1,008.00 Price Per 6-Pack, Gift Pack - $420.00


We have decided to enhance our shipping for the Alpha Mare wines. Enjoy complimentary FedEx PRIORITY overnight shipping*

Promo Code: HOLIDAYGIFT

Order by December 20th to get in time for Christmas
Order by December 27th to get in time for New Year

www.RedMareWines.com
Please take advantage of our complimetry FedEx ground shipping* on
ALL our wines when you order 6 or more bottles.

Promo Code: HOLIDAY2019


Happy Holidays! http://www.redmarewines.com