June 4, 2020 | Anne Vawter
Father's Day - Focus On Cabernet Sauvignon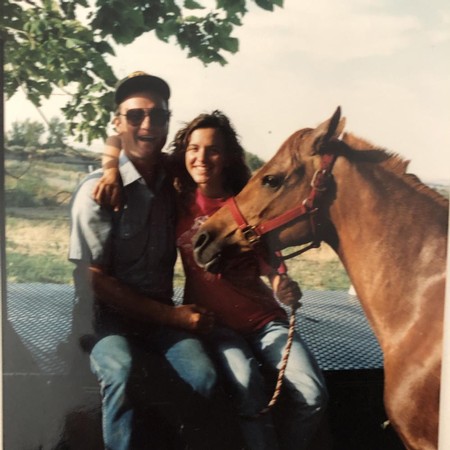 My dad is here with my sister Karen Minton, our artist in residence, along with her red mare, many years ago.
Father's Day is just around the corner! My father was instrumental in my development as a winemaker. He always took time to understand us as kids, finding and exploiting our natural motivations and talents anytime he could. I think he saw it as life's most exciting puzzle - to raise kind, successful, and happy kids. In my case, he saw my interest in agriculture and my fascination with the local Washington wines he would bring home. My dad saw in me the talents and abilities required to make great wines.

I didn't have such interesting ideas for myself. I was planning on a career in dentistry, which wouldn't have been all bad! But, I have to say that I'm thrilled that my dad stepped in and suggested I look into the Viticulture & Enology Program at the University of California, Davis. It was a perfect puzzle fit! My dad knew me better than I knew myself and helped me to form a career and life which has flourished. I am ever grateful.
This Father's Day, show the important man in your life that you are ever grateful and let us send him some Red Mare Wine!
2015 • Red Mare Wines • Napa Valley • Cabernet Sauvignon
Our Napa Valley Cabernet Sauvignon always has a beautiful wild cherry core. It shows off its lush red fruits and layers of complex characters underneath. You will always find bright fruit and lovely acidity inter-twined with silky tannins in Red Mare's Cabernet Sauvignon.

We source our fruit from organic or highly sustainable vineyards. Learn more about the vineyards we source from here. Once in the cellar, we use old-world methods, favoring technique over additives. We only use French oak, and we only use three coopers that we trust. Anne has traveled to their cooperages in France and feels confident in their consistency, sourcing, and quality.

"Full-bodied, soft and with good expression, it has loads of black fruit with earthy notions, finishing with great length." Wine Advocate

$68.00/bottle
$61.20/bottle for Triple Crown Club Members