June 25, 2020 | Anne Vawter
Get Ready for the 4th of July - Magnum Sale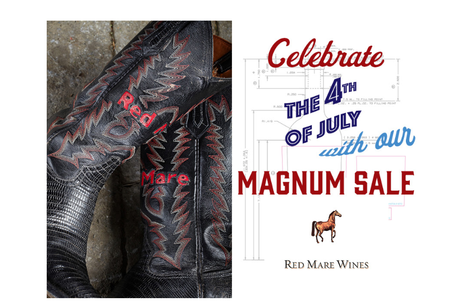 I hope you get to kick up your heels this 4th of July. To celebrate the founding of our country, we are offering Special Pricing on our magnums until midnight on the 4th of July!

When you gather, don't forget the benefits of the magnum-sized bottle!

• They always make a party more festive.
• Magnums age more slowly than 750s, so get a few extra for the cellar.
• You are never turned away when you walk in with a magnum!

When you buy 6, use promo code MAGNUM at checkout for FREE PRIORITY OVERNIGHT SHIPPING

2015 • Red Mare Wines • Napa Valley • Cabernet Sauvignon (1.5L ~ two bottes of wine)


"A bright and rich red with blackberries, burnt orange peel and blackcurrants. Full body, chewy tannins and a juicy, delicious finish. Needs three to four years to soften. 93 POINTS" James Suckling, 2018



$184.00/bottle
$129.00/bottle Special 4th of July Offer

2016 • Red Mare Wines • Dutton Ranch •Russian River • Sonoma County • Chardonnay (1.5L ~ two bottles of wine)


"This wine has a lovely juxtaposition of cold pineapple and fresh pear along with subtle earthier notes like clean dry hay and freshly wet gravel. As the wine opens up, stewed apples and vanilla cream come through." Anne Vawter, Winemaker & Owner

$89.00/bottle
$59.00/bottle Special 4th of July Offer
FREE OVERNIGHT SHIPPING

Summer shipping can be expensive! But we have your back! We will pay for the PRIORITY OVERNIGHT SHIPPING when your order of a case (12 bottles) is $499 or more! So, mix and match your favorite bottles, use Promo Code SUMMER, and we will pay the PRIORITY OVERNIGHT shipping!