September 25, 2019 | Bordeaux, Pairings, Red Wine, wine, Wine Dinner | Red Mare
Join Us For An Amazing Wine Dinner at Prime 47 in Carmel, IN on October 9th 6:30-9:30pm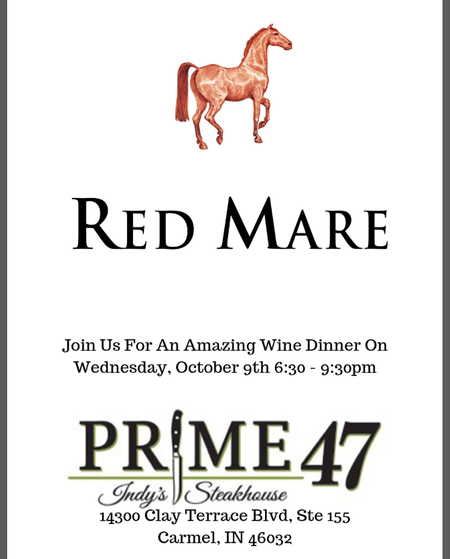 Join us for a lovely night of amazing wines, festive menu and great conversation. Jim Striegel, owner of Red Mare Wines, will lead us through his premium wines while enjoying an elegant dining experience featuring top-of-the-line gourmet dishes in a fabulous, historic setting is all yours when you join us at Prime 47 - Indy's Steakhouse on Wednesday, October 9th.

Prime 47 is locally-owned steakhouse in Indianapolis, IN, that stops short of nothing when it comes to serving you the best meal experience you've had in a long time.
The Menu

1st Course
Red Mare Wines 2015 Chardonnay
Oysters Rockefeller
2nd Course
Red Mare Wines 2016 Alpha Mare White
Couscous Shrimp Salad
3rd Course
Red Mare Wines 2014 Cabernet Sauvignon
Pan Seared Quail with a Berry Sauce
4th Course
Red Mare Wines 2015 La Vaquera...Our Cowgirl
Pork Loin Filet Seared & Wrapped in Bacon with an Apple Brandy Cream Sauce
5th Course
2015 Red Mare Wines Red Alpha Mare
Trio of Pie, Blueberry, Cherry and Apple
Call: 317-660-0720 to book your reservation!