May 5, 2020 | Red Mare
Dishing Out Relief Auction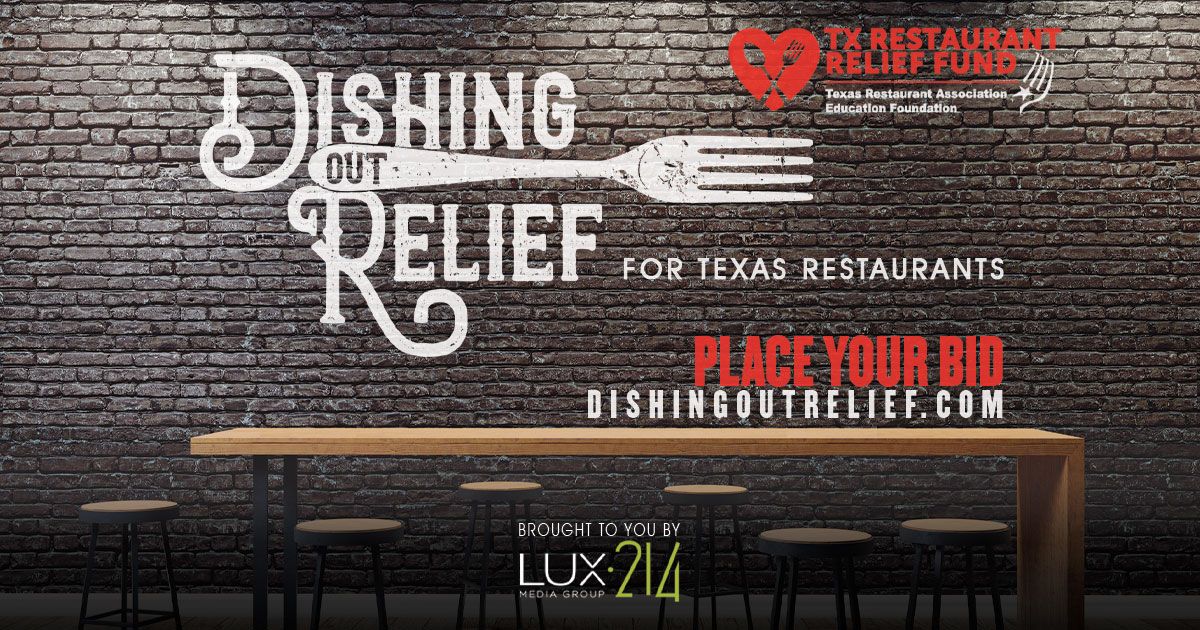 WHAT: Online auction to benefit the TRA Restaurant Relief Fund
WHEN: Wednesday, April 29th, 2020, at midnight to Wednesday, May 6th, 2020.
It's a win-win!! Bid on our auction item, score an unforgettable experience AND help provide immediate funding to independent Texas restaurants.
SHARE this Dishing Out Relief auction link and tag your friends! https://buff.ly/35A7d1c
Dishing Out Relief's proceeds will go to fund the Texas Restaurant Education Foundation's Relief Fund
Thank you and happy bidding!
QUICK FACTS
The Texas Restaurant Association (TRA) is the leading business association for Texas' $70.6 billion foodservice industry.
All proceeds from the auction will benefit the TX Restaurant Relief Fund.
The COVID-19 pandemic has caused 688,000 job losses, $80B in lost sales revenue, and caused 34% of Texas' 50,000 restaurants to close since March 15th.
The auction is open to everyone – industry and the general public – and will also accept direct donations.
Bidding is from Wednesday, April 29th, at midnight through Wednesday, May 6th.
Items up for bidding range in price from $25 to $20,000
Auction produced by Lux214 Media Group
The objective is to provide immediate relief by getting the money to restaurants quickly.
ABOUT TEXAS RESTAURANT RELIEF FUND
In response to the COVID-19 pandemic crisis, The Texas Restaurant Association Relief Fund was established through the Texas Restaurant Association Education Foundation, which is a 501(c)3 non-profit focused on the education and development of Texas' restaurant industry workforce.
The mission of the Texas Restaurant Association Relief Fund is to provide immediate financial relief to Texas' independent restaurateurs with funds designed to save employee jobs. For more information, go to buff.ly/2ymmh6B or click here for more on the TRA Restaurant Relief Fund.
#DishingOutRelief
#TXRestaurantReliefFund
#RestaurantRecovery
#SaveAmericanHospitality
#TooSmallToFail
#WeRRestaurants
#SaveRestaurants
#SaveOurRestaurants
#ILoveTXRestaurants