Our Red Mare
---
The Horse Part of the Story
The name "Red Mare" comes from Anne's love of her red mare, "Paradigm," a beautiful chestnut or "red" mare, which was gifted to her by the owners of Paradigm Winery, where Anne helped to create multiple award-winning wines.
Red mares are notorious for being a little sassy, sometimes challenging, but, like wine, when you find the correct way to approach them, the right technique to develop their gifts, they blossom into something exceptional.
Anne's plan when she acquired Paradigm was to give the former racehorse a new lease on life. Anne thought she could train and then sell Paradigm, giving Paradigm the skills to be successfull in the world of show and pleasure horses. This would provide the funds to purchase another ex-racehorse, and again, giving that horse a chance at a new life. That was before she understood the character and personality of the red mare. Well, it took ten years, but Paradigm taught Anne many things.
Paradigm, at 20 years old, is well and good. Sassy and independent as always, she is teaching the next generation of riders how to sit the trot, ask for a left lead canter and position themselves over a jump.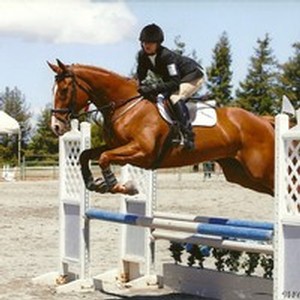 Want to hear more about Anne and her horse, in Anne's own words?
Excerpt from an interview:
"I was working as the assistant winemaker at Paradigm winery at that time. I wanted a horse that I could take to shows. I've been into Three Day Eventing ever since I was a kid. You need a well-rounded horse for that type of event - mentally quiet and willing for Dressage, precise enough to keep all the rails up in Show Jumping, and with the stamina and bravery to jump into the water, down banks, and over chicken coops in Cross Country.
At the time, Ren Harris, the owner of Paradigm Winery, was trying to find a creative way to give me a bonus. He asked me if I would be willing to name the horse I found "Paradigm" in exchange for her purchase price. Of course, this didn't take me long to think over!
I found a 5-year-old, chestnut mare at the end of her short racing career. She proved to be the most challenging and dynamic horse I have ever worked with – she has taught me more about horses than I had ever hoped to know. It took me down a path of training that has broadened my ideas about horses and my relationship with them.
Before I owned a red mare, I was unaware of the reputation they have. Now, it seems that everyone but me knew! I love her personality and energy, and life. She is continually teaching me that I don't have all the answers and that we have to work together as a team to be successful. A life lesson that I will carry with me always. Naming my wine brand, Red Mare, is a bit of homage to Ren Harris and Paradigm Winery for their generosity and for all the things I learned, the foundation of my training in what it means to make truly great wine."
- Anne Vawter, Winemaker & Owner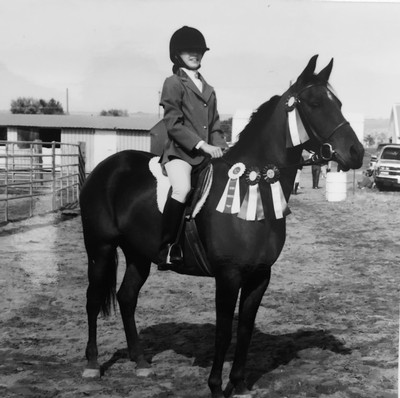 Anne at her first horse show, circa 1989