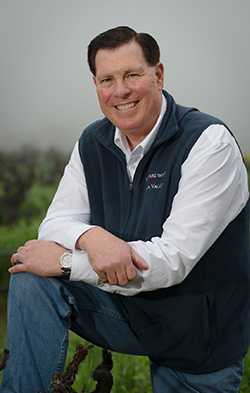 Jim Striegel
Owner
Jim Striegel began his love of wine at an early age while making wine with his father. They shipped a variety of grapes from Napa Valley, California to their hometown of Carbondale, Illinois and enjoyed red table wine with family and friends.
Jim enjoyed summers in Napa Valley with childhood friends when there were only ten wineries in the area, including Stag's Leap. They would hang out in the vineyards and the cellars, experiencing the rich traditions that come along with it, including the annual "blessing of the grapes".
With over forty years of experience in sales and marketing, Jim has built many successful businesses in the apparel, automobile and real estate industries. He worked for Izod Lacoste in Paris in the eighties and was able to further his wine education in both the Burgundy and Bordeaux regions of France.
When he was ready to begin his own brand, he called renowned winemaker Heidi Barrett. In addition to being a huge, longtime fan of Heidi's winemaking, he worked with her on a wine dinner in the Dallas area and trusted her advice and guidance. It was through Heidi that he met winemaker and partner Anne Vawter and the rest is history.